Everything you need to know about community events happening at Milagro.
---
Upcoming
Raise Your Voice for RAICES
Presented by Amy Faulhaber & Milagro
On August 10th from 7-8:30, Amy Faulhaber & Milagro present a night of music by the Portland area's most talented kids. Featuring:
Nora Burkhartsmeier
Pearl Cook
Della Cosloy
Celia Evans
Kate Goddard
Mackenzie Gross
Martin Hernandez
Emily Holloway
Sam Majors
Grace Malloy
Dani Martinek
Zia Murphy
Jason Nuesa
Maxine Nuesa
Cordy Rouffy
Libby Rouffy
Crea Sisco
Harrison Talcott
Michaela Warren
100% of your ticket purchase (a sliding scale of $10+ per person) will go to RAICES (Refugee and Immigrant Center for Education and Legal Services), a large immigration legal services organization that is currently working tirelessly to represent and advocate for immigrant families.
Your donation will serve as your ticket. There will be a list of donors at the door the night of the show. No need to indicate how many seats you will be needing with your donation unless you are bringing 5 or more people! If so, please email Amy to let her now!
---
Voz Alta: Generaciones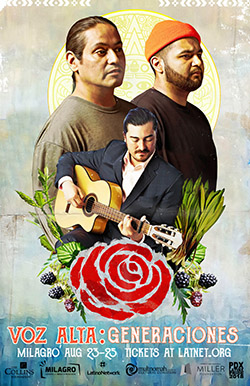 Latino Network is proud to present Voz Alta, a dramatized staged reading of personal stories interwoven with song that features the lives of Portland's Latinx community. For its 10-year anniversary, Voz Alta will stage Generaciones, an intimate portrayal of the mentor/mentee relationship between two Portland artists, Rodolfo Serna and Jesus Torralba.
Voz Alta: Generaciones offers an intimate view into the formative experiences that shaped Portland artists Rodolfo Serna and Jesus Torralba. Both in search of a home and a place in the world, they each turned to the arts for personal healing, self-discovery, and creative expression. Together they give back to the community by working with at-risk and gang involved youth in Multnomah and Washington County through the Community Healing Initiative (CHI). This show highlights their personal challenges, successes, and their mentor/mentee relationship. Recommended for ages 13 and up for hard language and topics of domestic violence.
Voz Alta: Generaciones is directed by Michael Cavazos. Written by Joaquin Lopez (Arts & Culture Manager, Latino Network) and Cynthia Gomez (Executive Director, Cultural Resource Centers, MFA Candidate Creative Nonfiction, Portland State University). Music is by Gerardo Calderon. Featured performers are Gustavo Ramirez, Sean Doran, Giovanni Alva, newcomer Jose Ruiz Valentine, and Milagro and Voz Alta veteran Nurys Herrera.
---
PAST EVENTS
Planned Parenthood Advocates of Oregon presents
My Health, My Story: A Planned Parenthood Speakout
Local community members will talk about why access to safe, legal abortion is important to them. By raising our voices, we can help protect reproductive freedom at the ballot box in 2018. Extremists are gathering signatures for a dangerous ballot measure that would amend the Oregon Constitution to restrict public funding of abortion. Together, we can ensure that all Oregonians are able to decide whether and when to become a parent — no matter how much money they make or how they are insured.
DATE: Monday, July 09, 2018
TIME: 6:30 PM
LOCATION: El Zócalo at El Centro Milagro, 537 SE Stark St, Portland, OR 97214
COST: $5. No one turned away for lack of funds.