Special Events
Marigold-making Party
Tuesday Sept. 25, 7:00 – 9:00 PM; FREE
Fastastical Creatures: Alebrijes Workshop
Wednesday Sept. 26, 6:30 – 9:30 PM; Saturday Sept. 29, 1 – 4 PM
Update: workshop is sold-out
Preview: Thursday October 18, 7:30 PM
Wine tasting starting at 6:30 PM courtesy of

Opening: Friday October 19, 7:30 PM
Post-show reception courtesy of

At every performance, one hour before curtain and during intermission
Altar display by Pepe Moscoso in El Zócalo
---
About the play
How do you remember those who came before? Season 35 begins with Milagro's beloved annual Día de Muertos production. This year, we take inspiration from an imaginary creature unique to Mexican art. ¡Alebrijes! A Día de Muertos Tale is a dream come to life, born out of one man's dying vision.
When a young bride and groom-to-be discover the largest Dia de Muertos altar they've ever seen, they suddenly notice something's run amuck, literally. A little creature, known as an alebrije, sweeps into the room and takes the bride's imagination, forcing past and present to meld together in this playful homage to Pedro Linares, the creator of the alebrije. Set in present day San Luis Potosí, in Xochimilco in 1936, and in an afterlife that looks too much like a psychedelic Oaxacan jungle, young Pedro realizes his artistic potential through his relationship to his pets as totems, his love for painting, and a close encounter with death.
---
Study Guide/Guía de Estudio
Download the ¡Alebrijes! Study Guide (English)
Descargue la Guía de Estudio de ¡Alebrijes! (Español)
---
In The News
¡Alebrijes! is a Celebration of Fantastical Mexican Folk Art, Willamette Week
Visionary of the Afterlife, Oregon Arts Watch
Raising Spirits, All Things Performing Arts
---
COMMUNITY EVENTS
Marigold-making Party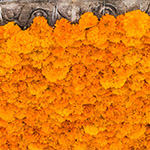 Join Properties Master Sarah Andrews for a Día de Muertos Marigold Making Party!
Starting at 7 PM, swing by Milagro for an evening of arts, crafts, and professional design. Participants will learn how to make the iconic Día de Muertos flower, and finished creations will be used in ¡Alebrijes! as properties and set dressings.
When: Tuesday Sept. 25, 7 – 9 PM
Cost: FREE
SOLD OUT
Fantastical Creatures — Paper Mache Alebrijes
with Nelda Reyes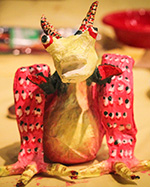 Alebrijes are brightly colored fantastical sculptures. They often depict a combination of animal, human and fantastical beings. Alebrijes originated in the turn of the 20th century in Mexico out of a lifelong tradition of "Cartonería", known as the Mexican papier-mâché.
In this workshop you will be able to design, build your structure and decorate it in 2-sessions. You can then see your creations in ¡Alebrijes! as properties and set dressing.
Session 1: Wednesday Sept. 26, 6:30 – 9:30 PM
Session 2: Saturday Sept. 29, 1 – 4 PM
Language: Bilingual
Cost: FREE
Update: The workshop is sold out.
SPACE IS VERY LIMITED. The first session is required in order to attend the second session.
---
Georgina H.L. Escobar, Playwright/Director
Ciudad Juárez native and NYC-based artist, plays include Then They Forgot About The Rest (Sin Muros Fest), Bi- (Teatro Milagro), The Beacons (INTAR), Sweep (Aurora Theatre), El Muerto Vagabundo (Milagro), The Unbearable Likeness of Jones… (Dixon Place, The Flea), Ash Tree (Duke City Rep), and others. Collaborations: A Ribbon About A Bomb (Exquisite Corpse Company), Quixote: On the Conquest of Self (Writers Theatre). She's written and directed for and with Milagro, New York Children's Theatre, Lincoln Center Theater Directors Lab, Clubbed Thumb Emerging Writers Group, INTAR, Project Y & Marfa Live Arts. Fellowships: MacDowell Colony, Fornés Writing Workshop, Djerassi. Awards: Kennedy Center TYA Award, Outstanding Service to Women on the Border, finalist National Latino Playwriting Award, semi-finalist Eugene O'Neill Theater Center.
---
Luis Guerra, Composer
Award winning composer and music producer, Luis Guerra, spent his early years playing drums and piano before picking up the double bass at an early age. He studied the music and composition and soon began performing professionally at the age of 15. He has performed on stage or recorded in the studio with musical luminaries including Peter Buck (REM), Patty Griffin, Marc Ribot, Jimmy Messer, Alejandro Escovedo, Samantha Ronson, Meiko, The Movement, Barrett Martin, Rahim Alhaj, Kevin Hays, Coleman Barks, Bobby Shew, Tosca Tango Orchestra, and Orchestra La Tribu. These days, he spends most of his time composing music for film, TV, podcasts, and online media.