---
This historical narrative shares the struggles and accomplishments of Dolores Huerta, labor rights activist, and union organizer who co-founded the United Farm Workers. Huelga will launch in February for Teatro Milagro's national tour and will be accompanied by the social justice curriculum from the UNIDAD Teacher Workbook, available in five bilingual formats. The Dolores Huerta Foundation has given their approval for this new biographical play.
CAST
Aurora Hernandez
Aurora (she/her) graduated with a BA in theater performance, costume design, and a minor in music from the University of Portland. She has worked around the Pacific Northwest as an actor, dancer, and designer; and, is excited to continue expanding that reach. The challenges that the Covid-19 pandemic have been overwhelming for everyone. She, however, sees those obstacles as reminders that creativity is energy to help us to connect in new ways. Theater equips us with the vehicle to bring people together, start and further conversations about critical topics such as the excruciating effects of the pandemic, and promote solutions to benefit us all. She is thankful to be a link of a theater that shares the voices of those often silenced. In that role, she hopes to enlighten audiences while also delivering joy to them through the screen. This season, she invites you to see her in Huinca, A Xmas Cuento Remix, And Huelga.
Ajai Terrazas Tripathi
Ajai is an actor, a director, and playwright, and OSU graduate from Corvallis. He has worked as an Education Director and Tour Manager at Teatro Milagro, appearing in over fifteen productions including Searching for Aztlán, Frida: un retablo, Cuéntame Coyote, Duende de Lorca, and El Payaso. He has also written three shows for young audiences ¡Corre! ¡Corre!, Sueños de Fútbol, and Mijita Fridita. He is a member of PDX Playwrights, where he produced his one person show Osho Returns, and has also worked with Theatre Vertigo, Northwest Children's Theatre and School, Salt and Sage Productions Original Practice Shakespeare, and Speculative Drama.
Pedro Adan Dominguez
Pedro (he/him) is a theatre artist who is excited to share the wonders of storytelling to young audiences. He graduated with his BFA in Acting and Directing from Stephen F. Austin State University in Texas, during his training, he also studied abroad at Rose Bruford College in Sidcup, England. He's happy to be a part of the Teatro Milagro team right after completing his acting apprenticeship at Portland Playhouse. He's an avid gamer, who one day hopes to voice a character! He currently resides in Portland with his best friend and their dog, Hero!
Tricia Castañeda-Guevara

Tricia Castañeda-Guevara is a recent graduate from the M.F.A. Acting program at the University of Washington, where she quickly developed a passion for the Alexander Technique, training rigorously in Suzuki and "hu-humming" through the Linklator progression. She is excited to be back in Portland and pleased to return to the Milagro Stage after recently appearing in X-Mas Cuento Remix. Other PNW credits include work with OCT, Willamette Shakespeare Company, CoHo, and more. She's happy to be joining her husband Phillip for this reading and is eager to welcome her newborn baby girl, Isadora, into the Milagro family.
---
Teatro Milagro is Milagro's national touring company. Four teaching artists perform the programs and lead workshops and residencies. In the 2018 – 2019 season, Milagro teaching artists reached over 15,000 students in grades kindergarten to graduate school. Workshops and residencies are designed with existing curriculum of teachers in mind.
Teatro Milagro's Touring & Arts Education Programs for schools embrace a cradle to career approach in arts education. As members of the Coalition of Communities of Color, the OYE Sexual Health Coalition and an Oregon Arts Commission model of best practices, Milagro's educational bilingual plays, and workshops address a broad range of themes that include socioeconomic disparities, racism, environmental and health-related inequity and loss of culture. Through workshops and residencies, Milagro engages students from elementary through college to foster self-determination, wellness, and cultural pride.
---
Maya Malan-Gonzalez, Playwright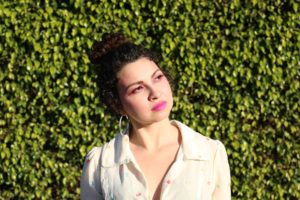 Maya Malan-Gonzalez is a multidisciplinary artist focused on performing, writing and ensemble collaboration. She's a lifelong member of Milagro in Portland, Oregon where she recently performed in the world premier of "Wolf at the Door". Through her history with the company, Milagro commissioned her holiday play, "A Xmas Cuento Remix", which had a National New Play Network Rolling World Premiere Winter 2019 with Milagro, 16th Street Theater and The Cleveland Public Theatre. In addition, Maya is an ensemble member with Teatro Luna, her story "Down the Side of the Mountain" is featured in Teatro Luna's Audible Original audiobook, "Talking While Female and Other Dangerous Acts". Maya is also a company member with Cara Mia Theatre, where she was last seen performing in "Deferred Action" and "De Troya". She has performed at The Edinburg Fringe Festival (Edinburg), Fury Factory Festival (San Francisco), One Theatre World (Chicago), Carnaval of New Work (Chicago), and The Encuentro De Las Americas (Los Angeles). Maya received her B.F.A in Acting from The Theatre School at DePaul University with a concentration in Latino Studies.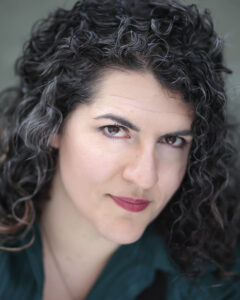 Mandy Khoshnevisan is an actor, educator, improvisor, and multifaceted theater artist. She first worked with Milagro directing "Judge Torres" (2019) and is delighted to be back. She is currently based in Portland, OR, where she is a Resident Artist at Bag&Baggage Productions and a member of the performing ensemble at Funhouse Lounge. As an improvisor, she worked with BATS Improv and The Un-Scripted Theater Company (both in SF), specializing in improvised full-length plays and musicals, and has performed at festivals around the country, with shows she created. On the scripted theater side, recent favorite acting roles include Lady Capulet in Romeo & Juliet/Layla & Majnun, Paulina in Death and the Maiden, Margaret/Dogberry in Much Ado About Nothing, Mae Coleman in Reefer Madness, and Biff Tannen in Back to the Future: the Musical Parody. Recent favorite directing projects include Triassic Parq, and the fighting and choreography for A Clockwork Orange. She also builds puppets, designs costumes and lighting, does some voice acting, and in general is usually pretty busy (although less so, at this exact time in history). (And regarding the protagonist in "Blast Off!", Mandy wanted to be a ballerina/astronaut when she was little, too!) Mandy studied literature, theater, and history at Stanford University (BA 2000/MA '01). She recently published her first book, Managed Mischief, about improvisation and creativity.