Milagro invites you to Posada, a celebration filled with fun for the whole family. Join us as we celebrate the holidays in traditional Latin American style.
Participate in arts and crafts activities sponsored by our friends and community partners at Latino Network; storytelling, a piñata, a holiday photo booth, and traditional food for purchase by Tortilleria y Tienda De Leon's.
Performances at 2 PM and 4 PM, featuring folkloric dance and music by Ballet Papalot, Colectivo Son Jarocho de Portland, and a brand new traditional pastorela at 2 PM and 4 PM. Admission is free, tickets are distributed on a first-come, first-served basis starting at 1 PM.
This program is made possible by the support of OnPoint Credit Union and El Centinela.
---
Annual Food Drive

We will be holding our annual food drive to benefit the Oregon Food Bank during Posada. Bring your canned and nonperishable goods to help a family in need not pass hunger during the holiday season. Review the list of most requested items and items to avoid here.
---
Ballet Papalotl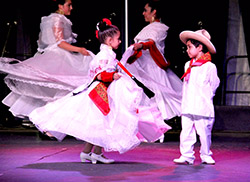 Ballet Papalotl is a bi-cultural dance troupe. Since 2003, their mission has been to share authentic Mexican culture and folk dance with the people of Oregon and the Pacific Northwest, in order to contribute to an harmonic multicultural society. "Papalotl" means "butterfly" in Náhuatl, the Aztec language.
Ballet Papalotl has partnered with the Consulate of Mexico, the Miracle Theater and other major cultural organizations, as well as being featured in the leading media of the Northwest. Ballet Papalotl has earned multiple awards, including recognition from RACC and the 1st place for Best Native Costumes at the Rose Parade for eight years in a row. Dr. Kenya Marquez is the Founder and Artistic Director of Ballet Papalotl.
---
Los Regalos, a new bilingual pastorela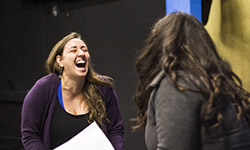 Written by Santos Herrera, directed by Juan Antonio Martínez, and featuring Christian Barrios, Laura Di Mare, Gustavo Jimenez, Yesenia Lopez, Magos Sandoval, Ricardo Vazquez, and Hector Zaragoza.
Angels and devils fight for the attention of a group of social media-obsessed friends chosen to witness the birth of the baby Jesus.
---
Colectivo Son Jarocho de Portland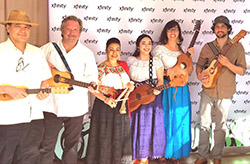 The Colectivo Son Jarocho de Portland is a group of artists and educators that is dedicated to the study and sharing of the traditional music of southern Veracruz. Its members came together three years ago, from a wide variety of backgrounds, united by a desire to learn about and share Son Jarocho music. Along with groups from Eugene, Salem and Seattle, the Colectivo organizes monthly Fandangos that preserve traditions that had nearly disappeared, even in Veracruz. All over Mexico, the US and even in Europe, Son Jarocho has become very popular in recent years because of the great sense of community that the music creates. Besides performing, the Colectivo offers the community free classes to learn how to play the Jarana, dance "zapateado" on the tarima, and sing traditional sones. For information on performances, workshops and fandangos, check the Colectivo's Facebook page.